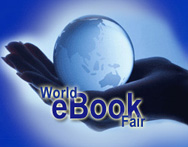 Monday, July 4th, marks the beginning of the World eBook Fair. It's going to run until August 4th, and a bunch of eBook archives will be participating in the festivities.
Actually, I have to confess that I am not aware of any festivities planned. If you are planning an event, please let us know. We'll help you publicize. In fact, if your event is in any way related to eBooks, we'll help you publicize it. It need not involve the World eBook Fair.
While I am at a loss to understand why one would have a Fair with no events sched, the Fair does have a number of powerful supporters, including Project Gutenberg, Baen Books, Internet Archive, and Wattpad. All of these sites are great places to find and download free eBooks.